Bicycles in Bratislava and beyond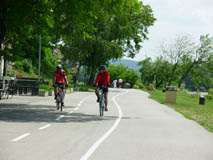 After a slow start, Bratislava is gradually becoming a respectable place to enjoy by bicycle. Unfortunately there are no special bike paths in or near Old Town or elsewhere along city streets – though many accept the risk of sharing the roads with notoriously outrageous drivers.
But for cyclists of all levels the surrounding countryside offers excellent experiences. Families and others looking for light exercise have very good bicycle trails along the rivers (Danube and Morava), almost flat but with varied scenery. Mountain-bikers and others who love the experience of steepness can appreciate the valleys and hilltops provided by the Carpathian range, which practically originates within the city limits. Even right in town there are decent parks for short outings.
The countryside
Outside of town the air is excellent, the views rewarding, and you have your choice of steep (and rather demanding) or easy terrain.
Easier and well-maintained bike paths run almost flat (for 20 km or more) in one of three directions:
Down both banks of the Danube, and even into Hungary (from the park Sad Janka Krala close to Old Town)
into Austria, where a well-developed network of bike trails run to many villages and cities (accessible via Lafranconi bridge, or from the right bank of the Danube in the Petrzalka district)
north and west, through nature reserves and villages along the Morava River (from Devin Castle and Devinska Nova Ves)
there are easy extensions for longer trips in all of the above directions.
Steeper rides all lead into the Male Karpaty ("Little Carpathian" mountain range):
from Koliba (hilltop immediately above Bratislava, with visible "Kamzik" transmitter tower)
from Zelezna studnicka (a forest park near the major city bus stop/intersection of "Patronka")
via Pekna cesta (accessible through the Raca neighbourhood of Bratislava)
Since all of these hilly routes cluster around the same hill, it's possible to strike out in one direction (e.g. from Koliba) and return via another (e.g. through Pekna cesta or Zelezna studnicka).
possible extensions for longer trips or overnight tours starting in Male Karpaty:

north-east: via steep but bikeable paths to Svaty Jur, the first town along the "Wine trail" northeast of Bratislava; from Svaty Jur you can continue on roads further north and east
north-west: through the villages of Zahorska Bystrica or Borinka, you can access roads that lead towards the Czech border (by way Stupava, Lozorno and beyond
In town
Within Bratislava, the two bike routes of significant distance are very steep, running either towards the lookout hill of Devinska kobyla (from access points in the neighbourhoods of Devin, Karlova Ves or Dubravka) or into the foothills of the Male Karpaty (see "Hilly rides" above).
Younger children, who are probably not up to the hills or to longer trips, can enjoy bicycling in Bratislava's city parks. Especially good for this activity: Horsky Park near the Slavin monument, and Sad Janka Krala across from Old Town on the right bank of the Danube.
Bridges
For those who want to bike for any distance, it may be necessary to cross the Danube, so it's worth noting which bridges are bicycle-friendly. These include:

Novy Most (the bridge with the "flying saucer tower"), is the most useful for bikers. It leads from Old Town into Sad Janka Krala, a popular park for easy riding and other city park activities; also adjacent to the Aupark shopping mall. You can also ride along the river behind the Incheba conference centre for an easy trip across the border into Austria.
Apollo (the new rainbow-shaped bridge, near the new National Theatre complex)
Pristavny (essentially part of the expressway, but with a sidewalk - runs east of Old Town)
Lafranconi (another expressway bridge with a separated sidewal - runs about 1 km west of Old Town and into Austria)
The first three bridges are good starting points for the bicycle paths that lead south and east along either side of the Danube.
The bad news:
As in most cities, bicycles will attract potential thieves here. Therefore it's best to keep the bicycle in sight, and to have a good lock if there's any chance you'll be separated from it.
The good news:
Renting a bike in Bratislava is finally getting easier. The bicycle rental services of which we are aware are Luka, address: Pri Suchom mlyne 84 in Bratislava, phone number inside Slovakia: 0907 683 112; and Topbicycle (a Czech firm that will deliver high-quality bicycles to Bratislava), address: Namesti 24/27 in Mikulov, Czech Republic, phone: (+420) 519 513 745 or in the U.S.A. (800) 527 8664.
The new "cyklobus" operated by the city transport authority as its Bus Line 128. This innovation runs from May to October on weekends and state holidays. It was created for the very purpose of bypassing the somewhat dangerous stretches of road that lie between the area's best bicycle paths. Each stop, from the terminus in the park Sad Janka Krala (adjacent the theatre Arena) to the terminus in Devinska Nova Ves, puts you down close to other bike-friendly areas – but the best (and easiest) paths of them all run from the two terminus points. The bus functions like any other city bus, with the difference that you park your bike in a special mega-trailer, and punch an extra 22-crown ticket for the bike.
Most tourist boats around Bratislava now allow you to bring your bike for a small fee. This allows you to travel in style along the river for an hour or more, to Vienna or Budapest, or to Devin Castle in Bratislava or Hainburg just over the border in Austria – and then enjoy your eco-friendly transport.
For more ambitious international tourers, consider another new weekend riverboat ride (one way) along the Danube from Bratislava to Passau in Germany, with a day stop inVienna. They store your bicycles for you, which you can take out to use in Vienna. Heavy-duty tourers can then take a few days to bicycle the 200 km (mostly flat) back to Bratislava from Passau – others can check their bicycle and catch the express train to Vienna. More information at Slovenska plavba a pristavy, Fajnorovo nabrezie 2 in Bratislava, telephone 529 32 224 (local number in Bratislava).
It's a few years away, but there are exciting plans in the works to create a special bicyclists' border crossing into Austria near Devinska Nova Ves. This will open up bicycling possibilities, both day-trips and longer excursions, on both sides of the border, making it easier and safer than ever to tour from country to country through the Bratislava area.