Restaurant tips
How to choose a restaurant in Bratislava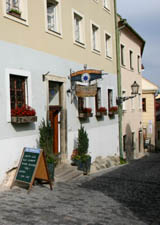 In eating out as in other experiences, one of the key pleasures in Bratislava's Old Town is strolling around and discovering surprises. The finest restaurants almost invariably post their menu by their front door, to help you choose – but staff in all restaurants will probably be quite willing to show you the menu before you sit down if you ask.
Foreign languages are not typically spoken by restaurant staff outside of the largest hotels, so if you wish to converse with the waiter in detail then stick to these places. However, most restaurants provide menus in English, and possibly German, and you can point to your selection.
Almost any restaurant you choose, especially in Old Town, will probably provide a decent meal at an attractive price. Atmosphere and decoration tends to be pleasant, but it is wise to notice such things as loud music and cigarette smoke before you are seated. The biggest disappointments tend to come in the area of service, which is occasionally slower or less attentive than in most western European countries.
Of course there are very good restaurants outside of Old Town as well. The shopping malls all offer adequate if not exceptional food in a variety of forms, from full service down to food courts. Any neighbourhood where you're doing business, including office areas and manufacturing centres, will have at least one or two good restaurants, although usually these are less accustomed to serving foreigners than Old Town. Finally, recreational areas such as parks and historical sites always have good food in their vicinity.
To help you select a more reliable eating experience, we also offer a few "Safe bets for restaurants" in Bratislava. This list includes a variety of types and locations both inside and outside of Old Town – please let us know if you have a negative experience in any of these.
Ordering
Almost all restaurants serve "a la carte", meaning side dishes (including rice and potatoes, or fresh salad) must be requested separately. You should be sure to ask separately even for ketchup, salad dressing and bread, and expect to pay a few crowns for each of them. Note that fish prices are often given by weight, not by serving, and so will often cost more in the end than the "example" price given in the menu.
It is best to point to each menu choice even if the waiter seems to understand, to avoid misunderstandings later.
Tipping the waiter
It is customary to round up to the nearest hundred or fifty, to a total of five to ten percent. Cash tips will be appreciated, even if you are paying for the meal by credit card.
Here are short reviews of a cross section of restaurants. They were chosen for this listing because they are unlikely to disappoint you, and may well give you a really memorable eating experience. Experience from a variety of reviewers rates them higher than other places in town for food, service and ambience. Most of them have been running successfully for much longer than their competitors. Unless otherwise noted, they offer lunch and dinner.
Modra Gula – Suche myto 1, roomy rooftop restaurant with its own street-access lift. Very close to Old Town. Probably the finer restaurant with the longest trusted reputation. Busiest with business lunches, but a decent choice for dinner as well, when the city's lights come on from all sides.
Butterfly – Panska 8. Along one of Old Town's most bustling pedestrian zones. A smaller bistro with mostly simple, creative dishes, especially salads. Its outdoor summer seating nearly doubles its size in good weather.
Tempus Fugit – Sedlarska 5. Right in the heart of historic Old Town. Draws favourable comparisons with upper-scale restaurants in western cities, with correspondingly higher prices, but still a bargain on a European scale.
Sparx – Cintorinska 32. Walking distance from Old Town, closer to the main bus station. In a portion of what used to be Bratislava's answer to Munich's massive beer halls. It's still a rather large room, with a big dance floor and video screens, but clever design has created a range of seating options. Surprisingly calm for lunch or early dinner, heating up for happy hour and into the night.
Red Cafe - Racianske myto. A bit over one kilometre from Old Town, but closer to the main train station and most universities and ministries. A new lively, sometimes noisy neighbourhood place, with light decor and ample portions. Service generally notably better than average.
Pegas – slightly west of Bratislava, a short drive from Devin castle, Sandberg and the western edge of town. Fine food, strong on seasonal specialties, attached to equestrian stables. Much of the fun here is seeing horses in action, either on the outdoor jumping set-up (which also hosts competitions on Saturdays in season) or the indoor exercise ring.
Carda Kormoran – Tematinska 7/a. On the shore of a little lake in the Petrzalka section of town. Spacious A consistent favourite for many years, with a full menu including fish and Hungarian specialties.
City Centre Vegetarian – Obchodna 58. One story above street level in a mini-mall, overlooking this pedestrian street of shops not far from Old Town. Rotating menu of several tasty all-vegetarian choices daily, served cafeteria-style. Lunch only, open till mid afternoon.
"Slovak Restaurant" – You will find restaurants making this claim all over Bratislava. It is not an officially certified name – there is no quality control about which restaurants are really "Slovak", so of course the quality and price may vary. But in general any restaurant that displays this sign (or the Slovak-language equivalent "Slovenska restauracia") will offer you a real chance to taste authentic Slovak cooking. Menus tend to range from basic grilled meat to traditional peasant meals based around cabbage or "bryndza" soft sheep cheese.
"Really safe" – Although the best eating experiences are always something of a surprise, sometimes you just want something simple and recognisable instead of exotic. Throughout Bratislava, you will are never far from one or more of the following:
Hotel restaurants – Almost all of the hotels in or near Old Town will serve you basic food without unpleasant surprises and offer a readable menu in English and German. Some of them (notably the Hotel Carlton and Hotel Marrol's, both near the opera) are far better than just conservative hotel restaurants.



Pizza

– There's nothing special about pizza in Bratislava, but there's not much that can go wrong with it either. Many restaurants specialise in pizza and other "Italian" foods, and many more offer pizza as one option of many. Just look for the "Pizza" sign.


International giants – There are some eight McDonalds, and one each of Pizza Hut and Little Caesars (both on the edge of Old Town). The IKEA store includes a restaurant with the standard menu used in all its stores worldwide.