Museums in Bratislava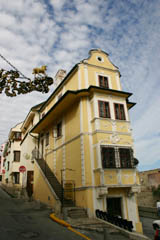 In true European style, Bratislava has dozens of museums, varying in size and subject. The most significant are listed here with their addresses. Unless otherwise noted below, they are normally open every day except Monday. With rare exceptions, opening hours are at least from 10 a.m. to 5 p.m.
Art museums in Bratislava
The largest art museum is the Slovak National Gallery at Razusovo nabr. 2 (www.sng.sk), most remarkable for its gothic and baroque art. It also features 19th century Slovak paintings, and hosts the most significant travelling exhibitions to visit Slovakia.
Both permanent and temporary art exhibitions are to be found in the following palaces in Old Town, most of which have been historically restored:
Mirbach Palace, Františkánske nám. 11
Palffy Palace, Pánska 19
Primate Palace, Primicialne nam. 1
Zichy Palace, Venturska 9
History, Science and Culture
The Slovak National Museum primarily displays natural history at its main building at Vajanskeho nabr. 2. It also has several specialised branches, the largest of which are listed below.
Archaeology, Zizkova 12
History of Slovakia, Bratislava Castle
Jewish culture, Zidovska 17 (Closed Saturdays, detailed information also at www.slovak-jewish-heritage.org)
Musical Instruments, Bratislava Castle
Bratislava history, especially of 19th and early 20th century life in the city, is presented at the beautiful building of the city's museum on Primicialne nam. 1 (www.muzeumbratislava.sk). This museum, too, has a number of specialised branches:
Clocks and timepieces, Zidovska 1 (Closed Tuesdays)
Crafts, Bebraveho 1 (Closed Tuesdays)
Hummel birthplace, Klobucnicka 2 (Open afternoons only - museum of early Romantic composer J.N. Hummel)
Pharmacy, Michalska 26
Weaponry, Michael's Tower, Michalska 22 (Closed Tuesdays)
Wine-making, Radnicna 1 (Closed Tuesdays)
Bratislava offers many other exhibitions. This is a selection of the best known, listed alphabetically according to their specialisation:
Children's museum of the arts "Bibiana", Panska 41
Crafts courtyard (with gallery), Obchodna 64
Natural gas, Mlynské nivy 44/a
Police, Gundulicova 2 (Closed Mondays and weekends, www.minv.sk/MVpredst/personal/muzeum.htm)
Trains and transportation, Sancova 1/a (www.muzeumdopravy.com)