Bratislava, Slovakia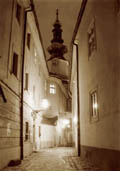 At the centre of Europe, Bratislava lies at the southwestern edge of Slovakia, a few minutes' drive from Austria and Hungary. On both banks of the Danube River, and close to the Carpatian mountains, Bratislava is the largest city in Slovakia and its capital, population 500,000.

Rich in the history of several Central European cultures, Bratislava offers a variety of sightseeing opportunities, supported by inexpensive shopping, top quality hotels in Bratislava and very good restaurants.

For a quick guide to touring Bratislava, explore "Things to do in Bratislava". For information on trips through the area, see information on our guide service.
Featured Bratislava hotels:
Hotel Arcadia
Frantiskanska 3, Bratislava
Exclusive boutique hotel in the very centre of the Bratislava's Old Town, in a carefully restored historical building will tend to you every need.
Pension Zlata Noha Bratislava
Kamzik, Bratislava
B&B - Pension Zlata Noha, located near the Kamzik forest, in the wider city centre.

Bratislava.info highlights
Hotels in Bratislava
We partner with Bookings.sk in order to provide online reservation for a range of tourist hotels, business hotels, bed and breakfast houses and holiday flats. Reservations are direct with reservation, totally free for our visitors.
Bratislava airport
The M.R.Stefanik Airport Bratislava is the principal international airport of Slovakia, with 24-hour operation. It is situated 9 km north-east of the city. The Bratislava airport's international code is BTS.

Bratislava hotels
See our selection of quality hotels in Bratislava. On-line reservations direct with reception, free for our visitors.