Bratislava by Boat
As a river city, Bratislava offers tourists a variety of ways to ride the river. This activity generally starts in April and ends in October, and really picks up in the summer months.
Most of these involve tourist boats, which give you the opportunity to relax with friends over light refreshments, watching the scenery float by. Some specialty cruises also include live music or other entertainment.
Day trips and longer trips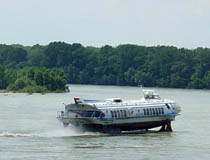 The Danube provides an unforgettable way to get to places you wanted to see anyway. Boat tickets are only a bit more expensive than car or public transport – with no parking fees or extra transport, since the boats stop within walking distance of Old Town. Service generally starts in April or May and ends in October each year.
Vienna is easily reached by river for a day trip in less than two hours each way (see below for details on schedules).
Closer destinations, such as Devin Castle near Bratislava and Hainburg in Austria, are less than an hour's ride (daily except Mondays in summer).
Budapest is a bit further, so boat travellers there usually plan to sleep over in that great city, or make train or other arrangements for the return trip (daily from spring to fall).
Please note that all schedule details should be confirmed with the individual boat company, as they are subject to frequent adjustments. For more on all these routes, or short viewing cruises inside Bratislava, contact Slovenska plavba a pristavy, Fajnorovo nabrezie 2 in Bratislava, or call 529 32 224 (local number in Bratislava). Note that their schedule to Vienna is limited to Saturdays, with Fridays added in summer.
The Twin City Liner offers daily service to/from Vienna - contact Central Danube Regional Development, Handelskai 265 in Vienna, or call 0903 610 716 (inside Slovakia).
Bratislava has also become a key stop-over for longer riverboat cruises along the Danube.
Active recreation
Bicycles, which most boat companies allow you to bring along, enable you to turn your boat trip into a more active outing.
Finally, many enjoy canoeing on the broad, calm waters of the Danube just south of Bratislava. Two places that offer rentals are Vodak Sport in Cunovo (telephone inside Slovakia: 0904 949 100) and Hotel Kormoran in Šamorín (telephone inside Slovakia: 031/5909100).
Links