Bratislava nightlife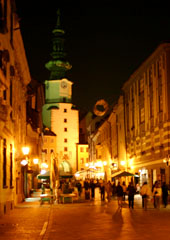 Most visitors consider the high point of Bratislava's night life to be its easy, ambient atmosphere. You can find it in sophisticated sidewalk cafes and in beautifully restored old buildings, in esoteric tea houses, student hangouts and even in blue-collar dives: the relaxed feeling of taking time to chat with friends. It's at the core of Slovak culture, and it's infectious, so be sure to catch it while you're here.
Choose from a wide offering, ranging from loud with music or with chatter to heavy calm; from people-meeting hubs to people-avoiding sanctuaries; centred on social drinking, coffee or tea, or food; sports bars, dance bars (see below), student bars (see below), restaurants and sweets shops.
There's a good chance that you can get a good recommendation to a favourite spot by a local friend or new-found acquaintence. Or, for all but the cheapest neighbourhood places, if you simply take half an hour and explore Old Town you'll probably find something that suits you just right – and don't be afraid to poke into courtyards, or to peek into a place before committing to sitting down there.
Dance and music clubs
Just about every night of the week will offer you some place to dance and/or enjoy live music in Bratislava. Clubs tend to slow down a bit outside of the school year, as the combination of the holiday season and students' departure thins out their clientele, but summer is far from dead. Year long, Sundays and Mondays are generally the slowest nights. On a typical evening, things don't get going until nine, ten or maybe eleven o'clock – and there is almost always some place to dance til dawn.
The music that dominates here will be much the same kind of dance music found in any other city in Europe. But many clubs offer a wide variety of theme nights on a regular basis: jazz and bluegrass bands, DJs of every stripe, and specialty contests and other entertainment.
There are ten or twenty Bratislava clubs in full swing in any given week. However, new places open up and others close down almost every month, and holiday seasons are treated differently every year. So outside of Mlynska dolina (see below) it's not easy to keep track of current programming. Your best bet is to check monthly or weekly listings, or ask a local for a tip.
Students' hangouts
Mlynska dolina is a little valley around which most of Bratislava's student dormitories cluster. So during the year, thousands of youth around twenty spend much of their free time here, which has given the area a vigorously fun atmosphere. It's not a pretty area – the buildings and stands are a mix of left-over socialist and plunked-down modern glassy structures – but the ambiance is cool.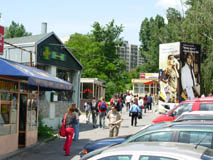 Several of Bratislava's liveliest music clubs, mostly run by student types, thrive in and around the dormitories and adjacent bus terminus, together with a popular kebab restaurant, a tea room hangout, and a variety of fast food stands, beer joints and other kiosks of student interest. As the weather improves, a typical afternoon or evening will find many bunches of people chilling out and generally quite happy to mingle with newcomers.
Any dormitory in the city usually includes a club of some kind, generally with more limited offering of food, drink or entertainment.
Among other places that students and other youth meet are public squares and parks (especially the sweep of lawn along the Danube, across from Old Town and near the Aupark shopping mall); anywhere in Old Town; and even (like everywhere else) the shopping malls.
Concerts
Bratislava has become an increasingly frequent stop for concert tours, with an average of two name international bands playing monthly. Lack of a mega-venue keeps the very biggest from playing here, but Avril Lavigne, Natasha Bedingfield, Pink, Black Eyed Peas, Depeche Mode, the Fugees, Sting and Elton John recently all performed within the space of about one year here. Ticket prices continue to under-cut those in most other cities by as much as half, so it's worth considering making a trip here just to see a favourite act (in a relatively intimate venue, with a cheap place to party and stay over afterwards, etc.).
Professional local bands perform year-round in venues all over town, to enthusiastic audiences.