A Day Trip to Devin Castle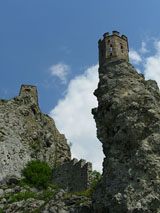 Unbelievably close to Bratislava's Old Town, but marvellously secluded from the city, lies one of Slovakia's key historical icons. Devin Castle is depicted on Slovak money and postage stamps, and the word "Devin" is in some way a synonym for things eminently Slovak. Consider the following:
It has a commanding view of the confluence of two significant rivers that form part of the country's borders, the Danube and the Morava.
It was literally Slovakia's gateway of Christianity, with patron saints Cyril and Methodius landing here in 863 AD to begin their epic missionary work.
Its choice as the entry point for these and other dignitaries was no coincidence: its river-side location was strategic for travellers, and the castle was a major seat of the Greater Moravian Empire of the period, the last time Slovakia was a major regional power.
Its vivid medieval history touches several empires, undergoing multiple makeovers that can still be traced today, although it is maintained as a historically accurate ruin, a testimony to its rugged age.
Napoleon himself was the one who ordered it ruined, as part of his military neutralisation of the region in 1809.
It is also one of Slovakia's largest extant castles; easy to reach from Bratislava (along a delightfully wooded riverside) in ten minutes by car or twenty by bus; hosts a variety of special pop history events throughout the year; offers a range of restaurants from outdoor grills to posh hotel venues; is surrounded by child-friendly activities (horse-back riding, hiking trails, boat rides to Austria and to Bratislava, souvenir stands)... Is it any wonder Slovaks and foreigners alike love to come here?
For all that, the area rarely feels heavily crowded, though it's just as well to start early. Here's a sample itinerary for a day at Devin, in spring, summer or fall:
Early Morning - Get here as early as you can – in fact at dawn if possible, the riverfront is one of Slovakia's most spectacular places to enjoy a sunrise. The castle opens at 10 a.m. from late April to late October, so plan on an alternative activity. If you have a bicycle, go right from the confluence along the Morava River (the smaller of the two, with a well-maintained bicycle path that runs over 20 km), through a stork reserve and other picturesque wetlands. If you're on foot, head up into the lush green hills and their extensive network of trails. If you prefer less activity, bring a good book, or a conversation partner, and settle into the peaceful village atmosphere, perhaps breakfasting in the luxury hotel or in one of the seasonal restaurants.
Late Morning - As one of the first visitors of the day, you can soak in the moody ambiance where you please: in the cliff-top Nun's Tower, around the well, into the labyrinth of indoor passageways, along the walled-in lawns or wherever else. The largest extant chamber houses a small museum collection. Allow at least two hours, but plan for more, in case you really fall in love with the place. Either hold out for a late lunch in the village, or break up your castle time by going out for lunch – but be aware that the only way in is a long uphill walk from the parking lot.
Afternoon - By now the crowds inside the castle and grounds are at their peak, so it's a good time to be elsewhere. If you're ready for some exercise and didn't get to it earlier, try the bike path or the hillside trails. Hikers with less energy are also permitted to walk the bike path for at least a taste of the lush nature all around. Or for a change of scenery, you might want to take the hour-long boat ride to Hainburg in Austria (check departure times at the two separate docks near the confluence). Children may be ready to simply play with a ball or just run around, and there is ample space for that, especially on a vast lawn near the parking lot and horse stables.
Evening - The Castle closes at 5 p.m. on most days, but occasionally hosts a special event in the evening. Especially in spring or fall, when it gets dark early, these are almost always worth attending: the ancient fortress is a magnificent backdrop for a memorably atmospheric event, which are usually expertly illuminated by creative lighting designers. Alternatively, if you're enjoying the surroundings, consider staying on for a leisurely dinner. Be warned, however, to bring mosquito repellent to keep away unwanted escorts.
And whenever you decide to leave, if you missed it earlier, do stroll past the handsome confluence.
How to get there:
By car: Remember that the road is very small and poorly marked, so you'll need good directions. The turn is about 500 meters from Lafranconi Bridge, along the main road and tram tracks. The village of Devin is 6 km from this turning. The largest parking lot charges a parking fee all week in the summer, and on weekends at other times.
By bus: City buses 28 and 29 run from the Novy Most bridge (near Old Town, on the bank opposite the "flying saucer" tower), at least twice per hour year round. The terminus of Bus 29 is just below the castle, but Bus 28 continues beyond the village, so be sure to step down at one of the stops in Devin village.
By bicycle: It's regrettable and illogical, but practically the only you can only get to one of Slovakia's best bicycle trails (outward from Devin, towards Devinska Nova Ves) is by taking one of Slovakia's least bicycle-friendly roads (the narrow road through the forest from the main part of Bratislava). The ideal is to get to Devin some other way, and bike the trail beyond. Still, dozens of cyclists brave this route every day. Another option is a new summer "cyclobus", a city bus that carries bicyclists and their bicycles from the city centre to Devinska Nova Ves every hour.
By foot: A marked trail will take you from the Dubravka section of Bratislava to Devin in 2 hours of rather fast and hard hiking. A much gentler route leads from the Devinska Nova Ves part of the city in under an hour; one option is to take a city bus to Devinska Nova Ves first. Numerous unmarked trails also connect Devin to the city. For any of these routes, be sure to ask a local for advice first.
By boat: Many international visitors take a day trip to Devin from Hainburg in Austria – two different services run from spring to fall, several times daily in the summer. There are also seasonal tourist boats from close to Old Town in Bratislava.
Where to eat
There are a number of restaurants operating in Devin, starting with the expensive and sophisticated hotel (near the large parking lot and horse stables). Hours vary considerably from season to season.
Other things to remember:
The stunning rivers often prove excellent breeding grounds for mosquitoes, but if you have good repellent the situation is quite manageable.
A considerable variety of gifts and souvenirs are available around the base of the Castle. Near the lighthouse you'll find shops selling handwork, and stalls with cheaper trinkets cluster around the parking lot.
The village is home to about one thousand people, so on a weekday you can find small grocery stores and the like, and there's a functioning church as well.