Danube River, Bratislava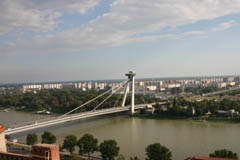 Ten things to do on or along the Danube River in Bratislava.
One of the world's great rivers, the Danube courses from a humble origin in Germany through most of the countries of central Europe on its way to the Black Sea. It's no longer "the beautiful blue Danube", but it remains fascinating. In Bratislava, the River Danube is large enough to impress, but still narrow enough to cross on foot in about ten minutes. Here are a few ways to enjoy the Danube in today's Bratislava:
1. Cross it on foot:
There's something special about walking over a great river (especially for kids). There are no pedestrian-only bridges, so you'll be aware of cars, but it's still a very pleasant experience in warm weather. Most people cross on Novy Most ("new bridge"), which passes between the Cathedral of St Martins and Bratislava Castle, over to a lovely park adjacent to the Aupark shopping mall, and has a separate level for pedestrians. The so-called "Stary Most" ("old bridge" – although it's simply from earlier in the twentieth century) is the next bridge downstream, also with access to the same park. The newest addition is "Apollo Most", a strikingly attractive modern structure – it can also be walked pleasantly enough, but it's not very close to any attractions, so it may be best to admire it from afar.
2. Tower over it (and have a bite as well):
The SNP Tower is ugly to some, fancied by others (especially kids!), but memorable to everyone. Its flying-saucer top is an essential feature of Bratislava's skyline, balancing with the sturdy Bratislava Castle at a comparable height. The 85 meter high Tower, over Novy Most, was recently refitted, and its remodelled restaurant has been drawing sincere praise. In any case, its expansive observation windows provide a unique view of the great river and the Bratislava area it visits. Open daily from 10 am 11 pm, elevator cost 100 Sk for adults, less for seniors, younger children free. For more information see www.u-f-o.sk/sk/.
3. Stroll along it:
On warm spring or summer evenings, both banks of the Danube near Old Town make for truly delightful walks. The "left bank", nearest Old Town, is adorned with simple but very agreeable flower gardens, running along a promenade that runs roughly between the National Gallery and the National Museum; this is also where you board boats for short cruises, or for river travel to Vienna, Budapest and elsewhere. The opposite side, which adjoins a popular city park, draws joggers and roller-bladers, as well as a bit of party crowd in the evening (though that doesn't get noisy until later, and it's possible to find a quieter spot if you prefer even then).
4. Eat on it:
Several floating restaurants have been in operation for years on the "left bank" (i.e. the built-up side, adjacent to Old Town), a walk of a few minutes from scenic Old Town. Recently, the opposite bank (adjacent to one of Bratislava's most popular city parks) has attracted restaurateurs as well, though those open so far have a more limited menu. Consider bringing mosquito repellent if you're planning an evening here.
5. Drink on it:
(see "Eat on it" – and if you're sensitive definitely bring your bug spray for the evening!)
6. Sleep on it:
Several "Botels" (boats still floating, but converted to function as permanent hotels) now host guests within walking distance to Old Town's attractions:
Botel Marina, the newest and most luxurious botel, located right below the castle. Telephone: +421 (2) 5464-1804, Fax: +421 (2) 5464-1771
Botel Gracia, the closest to Old Town, adjacent to Hotel Danube and the Novy Most bus stop. Telephone: +421 (2) 5443-2132, Fax: +421 (2) 5443-2131
Botel Fairway, the furthest walk from Old Town but still within a pleasant walk or tram ride, and also often the least expensive botel. Telephone: +421 (2) 5441-2090
7. Travel along it:
You can get to or from downtown Vienna or Budapest the same way most people did for centuries, riding boats along the river. The trip to either city takes a few hours, and is generally available from late spring to early autumn.
If you like sleeping on the river, but want to be getting somewhere while you do, consider luxury Danube River cruises. Bratislava is not an origin point for regularly scheduled departures, but has become a standard favourite stopover.
8. Canoe on it:
The current is strong and a bit tricky, but even novice canoers can manage the down-stream trip, particularly under the eye of more experienced guides.
9. Watch river traffic on it:
From massive freighters for which the Danube is still a key thoroughfare, right down to recreational rowers, just sitting and watching the river is a pastime in itself. For the best vantage points, consider all the points 1 to 8 above. A sweeping view is also to be found at Bratislava Castle.
10. Sightsee along it (castle-hopping, museum-hopping...):
The Danube provides an easy and meaningful orientation guide for tourists, especially those travelling by car. You can plan day trips to compare the features of Bratislava Castle to Devin Castle's a few kilometres away; or enjoy the cultural contrasts between the sizeable National Gallery and the minute but splendid Danubiana gallery situated on a peninsula about twenty minutes down-river. For shorter jaunts see suggested Day Trips – or consider making a longer international tour to include the great Danube cities of Vienna, Budapest and perhaps points beyond.