St Martins Cathedral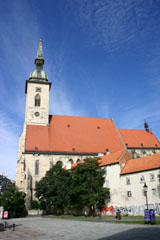 Though it was consecrated and officially opened in 1452, it had taken nearly two centuries from ground-breaking to complete this Gothic cathedral. Starting in 1563, it was the official coronation site for eleven Kings of Hungary during the Turks' occupation of Budapest – attested to by the massive replica of the distinctive Crown of St Stephen, quite visible atop its spiky spire. It also hosted the premiere of Beethoven's Missa Solemnis.
The cathedral's basic plan has three naves, with several chapels added from time to time over the centuries. Its most famous work of art is an 18th century statue of St. Martin and the Beggar. Opening hours are usually comparable to those of museums on weekdays, with shortened hours on weekends.
Together with the Castle on the hill adjacent, and somewhat similar in its striking but fairly stark Gothic lines and colouring, St Martins' 85 m spire dominates Old Town's skyline. The tower virtually formed a part of the town's fortifications, built as it was into the city's defensive walls.
As with the Castle, the surroundings of St Martins are as memorable as the structure itself. In the cathedral's case, this includes the picturesque remains of outbuildings in a spacious staired courtyard, and a working seminary with robed adepts on a cobblestoned sidestreet. A small but significant neighbour of the cathedral is a monument to the synagogue, which stood next door for centuries until the communist government demolished it around 1970 to make room for the new bridge.